Floors and flooring for outdoor pools
Comfort and safety by the pool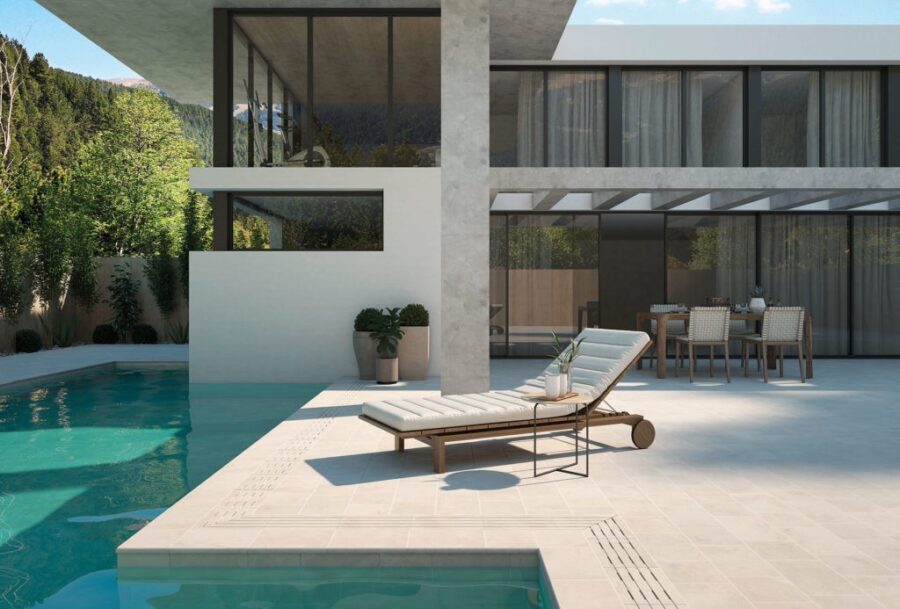 In landscaping designs, the pool occupies a fundamental place when it comes to achieving the style sought for the garden or terrace. And, without a doubt, the pavement is one of the main elements that the design established in the project will bring us.
When it comes to choosing the best outdoor tiles and getting ideas for pool decoration, one of the best options is undoubtedly porcelain stoneware.
In any outdoor decorative project, to carry out the choice of suitable flooring to put around the pool, we must know what are the essential characteristics that are needed for this type of project.
Next, we list each one of them:
Floors for swimming pools that guarantee safety, preventing falls, so its non-slip properties must be taken into account.
Floors with current, innovative design that adapt to the most current decorative styles.
Floors with an easy maintenance, so that their cleaning and conservation, such as the elimination of moisture spots so recurrent in this type of exterior flooring, does not imply excessive dedication time.
Quality outdoor floors for swimming pools with high durability and resistance, since it has to withstand inclement weather and strong changes in temperature.
High quality and design non-slip outdoor floors for pools
Taking into account these conditions, choosing floors to surround swimming pools is a matter of preferences and in Small Size we have a wide range of designs with the high performance of porcelain stoneware, one of the most accepted outdoor floors for being extremely resistant and durable, marked by aesthetic versatility to adapt to all types of designs and projects.
They are flooring for pools with formats that adapt to both small and large surfaces in the form of tiles or tiles of high thickness and easy installation.
The great versatility of the different collections that make up the Small Size catalog and its high technical characteristics make them the perfect choice to decorate both patios and terraces as well as large open spaces:
With the ALSACIA collection, it recreates the passage of time and the beauty of the more traditional old Cotto thanks to the aged effect of its pieces.
The PIZARRA collection presents the beautiful texture of the slate, with a soft and natural relief.
In ARÁN, we find two formats and two finishes with a very functional design of stone effect.
The beauty of granite represents the PÓFFIDO collection, with all the technical advantages of porcelain stoneware.
The most avant-garde choice comes from the hand of SOUL, the most timeless and modern catalog.
Small Size is the most innovative solution in porcelain tiles for the most demanding outdoor spaces. These will remain unchanged over time and with a minimum requirement regarding their maintenance. In addition, it offers incredible aesthetic finishes, making them an essential choice for any current architecture project.